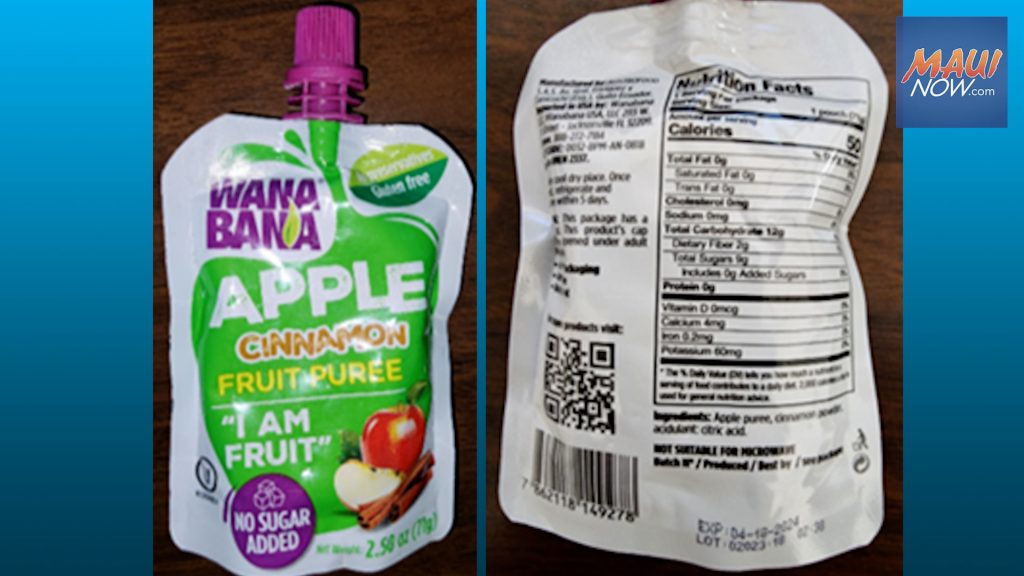 The Hawai'i State Department of Health Food and Drug Branch is alerting residents to a voluntary recall by WanaBana of all of its Apple Cinnamon Fruit Puree pouch products distributed to retailers nationally, including online retailers such as Amazon.com.
All lot codes and expiration dates of the Apple Cinnamon Fruit Puree pouches are included in this recall as the products may contain elevated levels of lead. No other WanaBana fruit products are affected by this recall.
FDB advises parents and caregivers not to purchase or feed WanaBana Apple Cinnamon Fruit Puree pouches to toddlers and/or young children because of the elevated lead. Lead is toxic to humans and can affect people of any age or health status, and protecting children from lead exposure is important to lifelong good health.
Parents and caregivers of toddlers and young children who may have consumed WanaBana Apple Cinnamon Fruit Puree pouches should contact their child's healthcare provider about getting a blood test.
To date, DOH has received no reports of illnesses or injuries due to consuming this product.
For more information about this recall, consumers may contact WanaBana by phone at 1-888-272-7184 or by visiting WanaBana's website: https://wanabana.com/contact-us
Original source: https://mauinow.com/2023/11/01/voluntary-recall-wanabana-apple-cinnamon-fruit-puree-pouches-due-to-elevated-lead/
Enter your Name
Enter your Email Address