Updated: December 6, 2023
The Salvation Army is issuing a call to action, seeking dedicated volunteers for its Maui Disaster Relief Call Center with two Oʻahu locations. In the wake of the recent wildfires that have impacted the Maui community, the Salvation Army is rallying local support to aid residents on Maui. The organization is urgently seeking 15-20 volunteers with excellent communication skills and a passion for community and social services.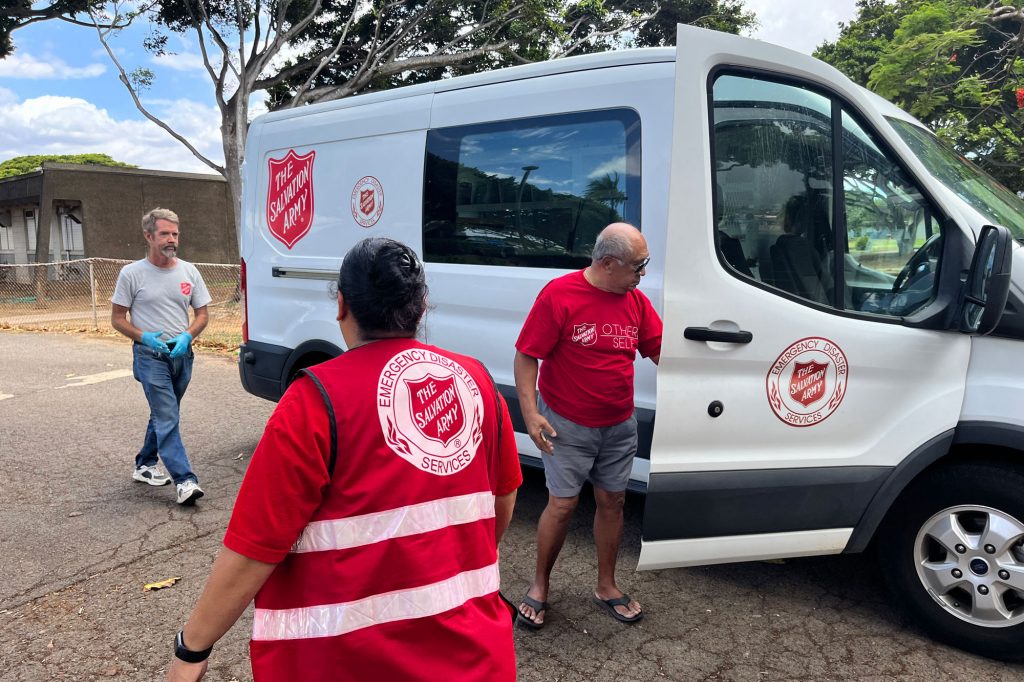 The primary objective of this volunteer effort is to coordinate the delivery of essential resources to families and individuals affected by the Maui wildfires. Volunteers will reach out to affected residents, assess their needs, and provide assistance in ensuring a swift response to their requirements.
While experience in social services, case management, or ministry is desirable, it is not required. The Salvation Army welcomes all members of the community who are looking to make a positive impact during this challenging time.
The call center will be located at two Salvation Army facilities, the Kroc Center Hawaiʻi, and the Kauluwela Mission Corps. At the Kroc Center Hawaiʻi, volunteers are needed on the following dates and time slots:
Thursday, Oct. 19 from 9 a.m. to 2 p.m.
Friday, Oct. 20 from 2 p.m. to 7 p.m.
Wednesday, Oct. 25 from 9 a.m. to 2 p.m.
At the Kauluwela Mission Corps, volunteers are needed on Monday, Oct. 23 from 2 p.m. to 5 p.m.
The call center can accommodate five volunteers per time slot, and individuals are welcome to serve during any available shifts. The Salvation Army understands that not everyone can commit to a full day and appreciates all contributions.
"We encourage everyone to come together and support our fellow residents in Lahaina during this time of need. Your help will make a significant difference," Charmaine K. Hauanio-Kuewa, Divisional Director of Development, added.
For those interested in volunteering or seeking more information, visit https://volunteer.usawest.org/OpportunityDetail.aspx?ID=7635 or contact Deann Aiu at deann.aiu@usw.salvationarmy.org or call 808-343-7369.
Original source: https://mauinow.com/2023/10/18/the-salvation-armys-maui-disaster-relief-call-centers-on-o%ca%bbahu-urgently-seek-local-volunteers/
Enter your Name
Enter your Email Address