Updated: November 30, 2023
During the holidays, many people in Hawaiʻi struggle to put food on their tables. Addressing this need, The Salvation Army is bridging the gap by distributing Thanksgiving meals across Oʻahu, Maui, Kauaʻi, and Hawaiʻi Island.
With events spanning from Hanapēpē to Honokaʻa, the nonprofit plans to provide thousands of meals, aiming to not only share the warmth of the season through hearty and delicious food but also to raise awareness about the Salvation Army's ongoing, faithful commitment to serving communities of Hawaiʻi.
We extend our heartfelt appreciation to the generous contributions of our volunteers, corporate partners, dedicated staff, and Salvation Army officers who play a pivotal role in orchestrating our annual Thanksgiving events in Hawaii," stated Charmaine K. Hauanio-Kuewa, Divisional Director of Development for The Salvation Army Hawaiian & Pacific Islands Division. "We humbly ask the community for their continued support and encourage those in need of a meal to reach out to The Salvation Army Corps in their community."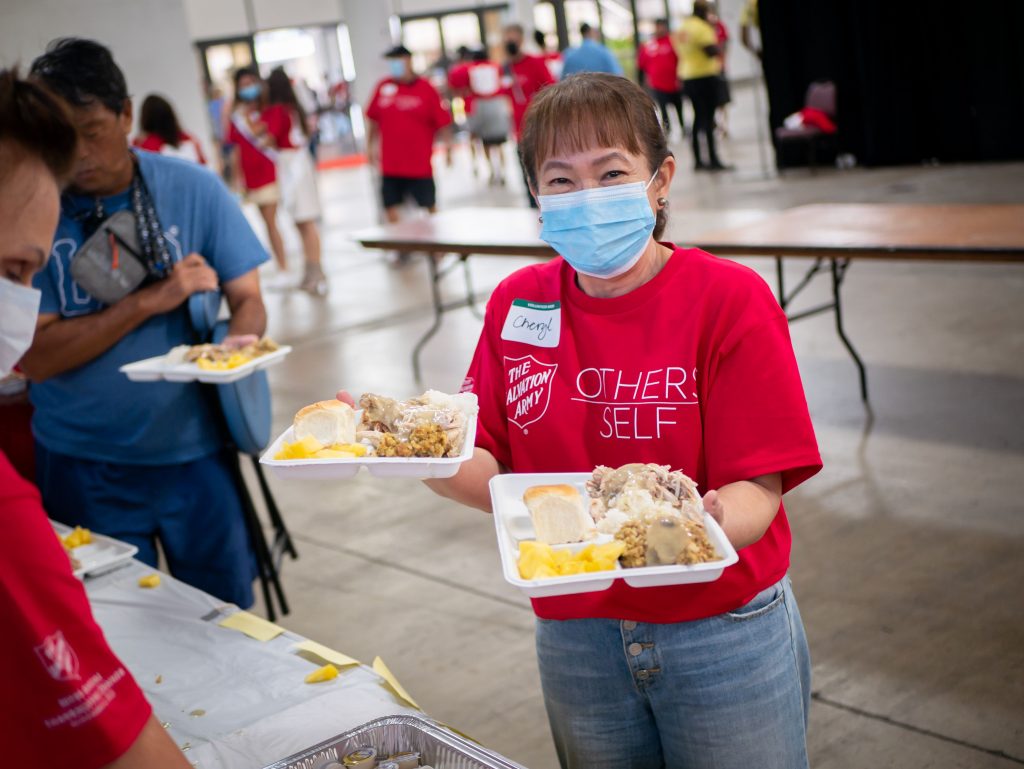 Find your Nearest Community Thanksgiving Luncheon:
Maui:
Kahului: There will be a dine-in Community Thanksgiving Meal at UH Maui College in the Pāʻina Building on Wednesday, Nov. 22 from 11 a.m.-12:30 p.m. For more information, contact: 808-871-6270 or email steven.howard@usw.salvationarmy.org
Oʻahu:
Kāneʻohe: There will be a drive-up service to collect food boxes from our Kāneʻohe food pantry on Nov. 21 from 9 a.m.-12 p.m. at 45-175 Waikalua Rd, Kāneʻohe, HI 96744. Additional pre-cooked meal boxes (to reheat) will be distributed on Thanksgiving Day, November 23, at Hauʻula Beach Park from 10 a.m. – 1 p.m.   For more information, contact: 808-383-9537 or email john.rodriguez-mercer@usw.salvationarmy.org
Neil S. Blaisdell Center: The Salvation Army will resume their annual free Thanksgiving Meal service for approximately 2,000 guests, at the Blaisdell Exhibition Hall on Thanksgiving Day. It will be the 51st anniversary of the lunchtime event. The free meal is open to everyone, and no tickets are needed. Meal service will begin at 11am. For more information, visit: https://thanksgivinghawaii.org/
Kroc Center: Hot meals will be available in person on Nov. 22 for everyone on a first come first served basis. Volunteers will also be delivering approximately 800 prepared meals. For more information, contact: 808-682-5505
Hawaiʻi Island:
Hilo: There will be a sit-down meal service at Auntie Sally's (799 Piʻilani St. Hilo, HI 96720) on Thanksgiving Day at 11 a.m.-1 p.m. For those unable to attend, an additional grab n go meal service will be provided at 2:30pm, hosted by the Hilo Lions Club. This will take place at The Salvation Army Hilo Temple Corps parking lot located at 219 Ponahawai St. For more information, contact: 808-935-1277
Kona: Prepared Meals will be delivered to Senior Homes on Thanksgiving Day beginning at 9am. Additionally during the day, there will be a Walk-up Grab N Go Meal service at Jackie Rey's restaurant (75-5995 Kuakini HW Kailua-Kona) beginning at 11 a.m. These meals are being provided through the generosity and partnership of Jackie Rey's, Papa Kona's Restaurant, and The Salvation Army Kona Corps Advisory Board Members. For more information, contact: 808-326-2330
Honoka'a: Prepared Meals will be delivered to homes on Thanksgiving Day by noon. These prepared meals will be delivered in Waikoloa by Waikoloa Community Church, in Waimea by Imiola Church, and in Honokaʻa by The Salvation Army Honoka'a Corps. For more information, contact: 808-775-7346
Kauaʻi:
Hanapēpē: There will be an in-person meal service held at the Hanapēpē Corps on Wednesday Nov. 22, from 10:30 a.m.-1 p.m. Prepared meals will be available for dine-in only this year. For more information, contact: jose.a.gonzalez@usw.salvationarmy.org
Līhuʻe: Grab-n-Go meals will be distributed on Thanksgiving from 10:30 a.m. to 12:30 p.m. or until 600 meals have been distributed at The Kauaʻi War Memorial Convention Hall. For more information, contact: (808) 245-2571
The Salvation Army remains dedicated to serving Hawaii's vibrant communities, offering not just plates of food but also the spirit of Aloha and holiday cheer this Thanksgiving. If you're interested in contributing to their efforts through volunteering or making a donation, visit https://hawaii.salvationarmy.org/.
Original source: https://mauinow.com/2023/11/19/the-salvation-army-hawai%ca%bbi-to-provide-more-than-5000-thanksgiving-meals-statewide/
Enter your Name
Enter your Email Address