Updated: September 30, 2022
In the past couple of years, the popularity of influencer marketing has seen a meteoric rise
You can expect this trend to continue. In fact, in a study by Tomoson, influencer marketing was rated as the fastest-growing online customer-acquisition channel, beating organic search, paid search, and email marketing.
59% of marketers plan to increase their influencer marketing budgets over the next 12 months.
But even as influencer marketing enters the mainstream, and more businesses see it as an essential part of their marketing strategy, marketers now have a new challenge ahead of them.
Like any other marketing activity, significant money and resources go into the execution of an influencer program. So it shouldn't come as a surprise that marketers are now closely looking at the performance of their influencer marketing campaigns to make sure that the money spent was well worth the effort.
However, measuring the success of an influencer program can be tricky to say the least. According to "The State of Influencer Marketing 2018" study by , 76% of marketers cite measuring the ROI of influencer marketing campaigns as their top challenge for 2018.
In this article, I will give you insights into the metrics and tactics you can depend on to measure the effectiveness of your influencer campaigns.
Have Clear Campaign Goals and Map Goals to Relevant Metrics
Before you set out to determine the effectiveness of your influencer marketing campaign, you must first ascertain the business goals and key objectives of the campaign. Brands use influencer marketing campaigns for a variety of reasons such as raising brand awareness, prospecting to drive potential customers to a website, driving sales, etc.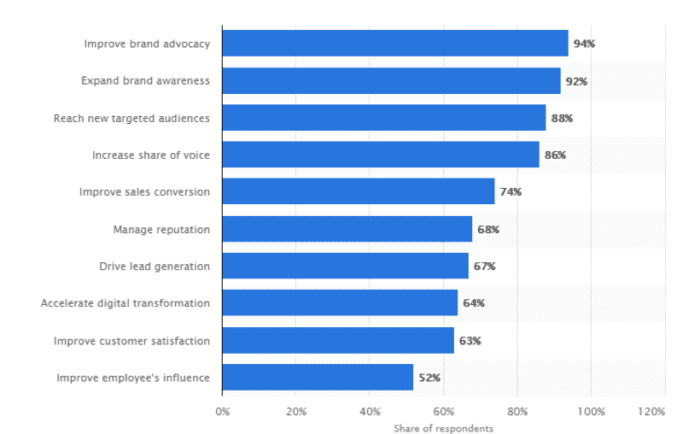 Once you are clear about your campaign goals, you can narrow down to the relevant metrics and data that can help you track, measure, and analyze the success of the campaign.
There are a whole lot of metrics and data available to help you gauge the success of your influencer marketing campaigns. But there is no point keeping track of all the metrics, as not all of them will be relevant to your campaign goal. This is especially true when supporting your campaign with paid media, there are trade-offs between reach, engagement, and conversion.
Put simply, you need to use the right metrics when it comes to monitoring your campaign performance.
Key Metrics that Matter to Your Influencer Marketing Campaign
As per the previously cited Linqia report, when measuring the success of influencer marketing programs, marketers cite engagement, clicks, and conversions as top performance indicators.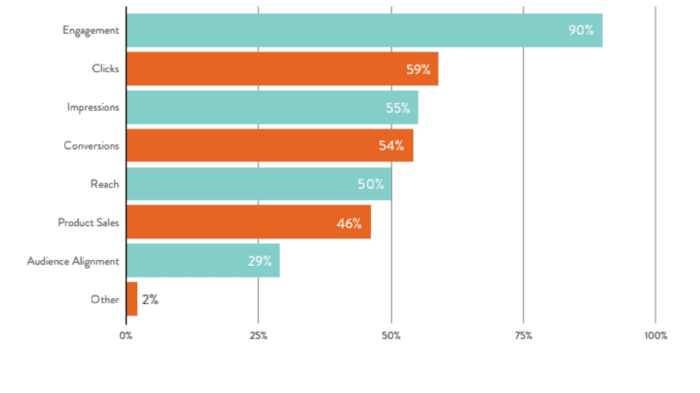 Source: State of Influencer Marketing 2018 by Linqia
Though reach and engagement are the most commonly-used metrics, these are not the only indicators you should rely on. Let's look at the commonly tracked performance indicators and a few other that can give you meaningful insights as to how your campaign is faring.
1. Audience Reach
Reach indicates the number of people who see your influencer's content. The major reason for brands to take to influencer marketing is the incredible reach offered by various social networking platforms. So reach becomes an important indicator to measure the success of the campaign.
Influencer reach can be measured by tracking the:
number of followers of an influencer and estimated reach percent or
Viewing the actual number of people reached in the influencer's business manager
It's pretty obvious that the later is preferred (understanding the actual reach of your branded content.)
It is important to remember that it is not very easy to quantify the benefits of reach. And if an influencer has a million followers, remember that 15-30% of those folks are actually going to see any given post. Then there is also a possibility of followers being fake or inactive accounts.
In this scenario, impressions, which are the number of times users have seen an influencer's post, are a better indicator than the number of followers to calculate the actual reach of an influencer.
2. Engagement
Engagement is often considered to be a better indication of campaign performance in comparison to reach. The various engagement metrics indicate the extent to which the audience is interacting with your brand and consuming the content put out by the influencer.
Engagement can be measured by tracking metrics such as likes and reactions, comments, shares, and brand mentions. The engagement rate is an important metric that you can use to measure the level of engagement received by an influencer on their posts. It indicates the performance of the influencer's content.
A benchmark engagement rate can be used to compare the performance of various influencers as well as measure the success of your overall campaign.
3. Leads and Sales Conversions through Referral Traffic
Referral traffic stats let you know which influencer content is driving traffic to your website or specific landing page. It provides meaningful, actionable insights into which campaigns are resonating with their audiences and across which social media platforms.
Google Analytics is a great tool to find out where your website traffic is coming from. You can also use it to track a bunch of metrics including who is visiting your site and their demographics, the content they like the most, time spent by them on your pages, and much more.
For more information, you can check out this blog post on using Google Analytics to measure content marketing performance which applies to influencer marketing as well.
You can also use the following methods to track conversions:
Incorporating Paid Media to Amplify and Measure Influencer Content
Influencer marketing is inherently difficult to measure and scale. With paid media amplification, it becomes much easier to measure, scale, and even optimize your campaigns. What's great about amplifying influencer content with paid media is that you get high-quality content that feels native. In addition to this, you get to target the right audience and then measure the campaign results.
It is important to consider paid amplification (and the objective) upfront because it will impact the creative direction you give your influencers. For example: It wouldn't make much sense to include unique coupon codes for a campaign focused on top of funnel reach but it is a great idea for a conversion focused campaign.
In other words, you get the best of both worlds. Using tools like Lumanu can help you put programmatic media behind your content through your influencer accounts so you can amplify the content and measure its results.
Conclusion
Some of the indicators can be directly correlated to the performance of the campaign. But determining whether your campaign has directly contributed to an increase in sales or other forms of conversion may not be very obvious, And it could require a more detailed analysis.
Nevertheless, tracking the above-mentioned metrics can definitely tell you whether your campaign has been successful or not. And will also help you plan your future campaigns.
Enter your Name
Enter your Email Address