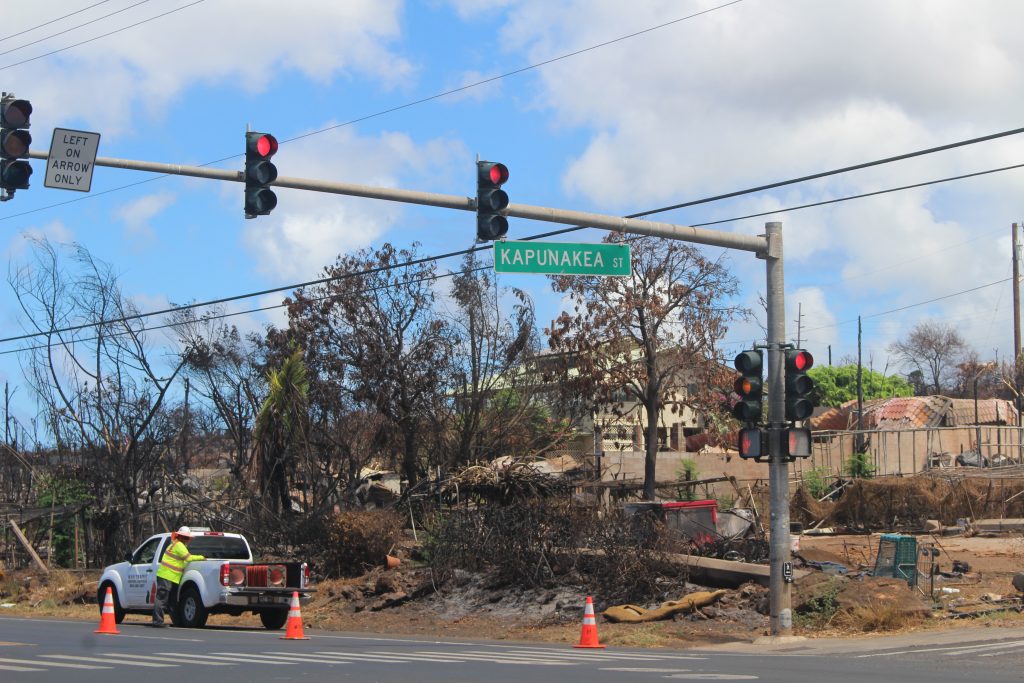 An online petition demanding a delay to the planned reopening of West Maui to tourism on Oct. 8, has garnered more than 10,000 signatures.
The petition was created by Lahaina Strong, a community-driven grassroots organization dedicated to supporting the recovery and resilience of Lahaina. The petition is promoted by bkrvlogs, run by resident Blake Ramelb and the OfficialLahainaStrong Instagram page, which describes the group's efforts, which are aimed at "empowering the people, restoring water, and defending land." The Lahaina Strong group was originally formed following the devastating West Maui wildfires during Hurricane Lane in August 2018. 
The latest vlog post, shared on both platforms, said the petition would be delivered to the State Capitol at 11 a.m. on Tuesday, Oct. 3.
Speakers during the event will include Lahaina Strong community representatives, West Maui County Councilmember Tamara Paltin, and Senator Angus McKelvey (Senate District 6, West Maui, Māʻalaea, Waikapū, South Maui).
Organizers say the requests presented at this press conference are "deeply rooted" in the needs and welfare of the Lahaina community, as shared during the 10 hours of testimony by West Maui residents on Wednesday, Sept. 27 at the Government Relations, Ethics, and Transparency Committee of the Maui Council Council, according to a news release announcement.
The petition states: "The decision to reopen must not proceed without proper consultation with the working-class families of Lahaina, who have been displaced by the fires… The voices of our displaced residents, who have endured immeasurable hardships, have not been adequately heard."
The group is asking for: the governor and lt. governor to hear directly from the community at a listening session set for 4 p.m. on Oct. 6 at Hanakaʻōʻō Beach Park; allow survivors time to grieve; stabilize housing and rent for impacted residents; ensure the safety and schooling for impacted keiki; provide a "COVID-level" safety net for working families and local businesses; enact a moratorium on foreclosures; allow tensions with tourists to subside; and market other Maui regions to tourists.
"Our community is in pain, deep in grief, and physically and emotionally exhausted. The decision to reopen tourism on Oct. 8, when many of our residents neither feel prepared nor capable of extending the aloha spirit to incoming tourists, seems ill-timed on the part of our government. The day-to-day uncertainty that plagues our community must be addressed as a top priority before we even consider reopening," said Lahaina Strong organizer, Jordan Ruidas.
"We urgently need long-term housing solutions and the assurance of safe schooling and childcare facilities right here in Lahaina. What we don't believe in is a hasty, makeshift approach by the government, just so they can claim they've offered solutions and rush toward reopening. It's imperative that this process is executed thoughtfully and prioritizes the well-being of our community members over tourism industry profits," said Ruidas.
Similar demands were issued by West Maui lawmakers Senator Angus McKelvey and Representative Elle Cochran over the weekend, urging the governor to abandon the hard date of Oct. 8 for the reopening of tourism to West Maui.
The letter states that the consensus amongst the two legislators and their constituents is that the planned reopening of West Maui for tourism is "too much, too soon." The letter also implores Gov. Green to listen to the Lahaina community in regard to the reopening strategy.
"Pitting the needs of the tourism industry against the needs of a community trying to heal is not the solution we seek. It is vital to ensure a balance by creating a solution that does not exacerbate the issues of an already fragile community," said Sen. McKelvey in the letter.
West Maui Council member, Tamara Paltin said she has spoken to many people who are struggling with all of the unknowns. "Many have already had to move 3 or 4 times with their family and all of their belongings, sometimes from one end of the island to the other. They have gotten conflicting information from different workers in the same agency, they have filled and re-filled out countless forms and they are not in a place mentally or emotionally to put a smile on their face and host strangers and answer intrusive questions. We need marketing for other parts of Maui like Wailea welcomes you and Mākena misses you but please let West Maui grieve," she said in the announcement.
During a press conference last month, announcing the reopening, Gov. Green said, "Many have asked when it will be the right time to reopen West Maui to visitors. There is no easy answer to this question, but I can say that if we support Maui's economy and keep our people employed, they will heal faster and continue to afford to live on Maui," he said.
Last week, Mayor Richard Bissen and members of his Lahaina Advisory Team announced a phased approach to the reopening of West Maui to visitors following the Governor's projected reopening date. He said the goal is to introduce a phased approach that will begin on Oct. 8 and allows for housing needs to be clearly addressed.
The staggered opening calls for Kapalua to Kahana properties to reopen first, followed by Māhinahina to Maui Kāʻanapali Villas , and ending with the reopening of the Royal Lahaina Resort to the Hyatt Regency. With the majority of displaced residents sheltered in this area, the mayor said this would be the last phase to allow for more time to address housing options.
Original source: https://mauinow.com/2023/10/02/petition-draws-10k-signatures-asking-governor-to-delay-reopening-of-west-maui-to-tourism/
Enter your Name
Enter your Email Address