National Sports Day 2018: 5 traditional high adrenaline Indian sports and their health benefits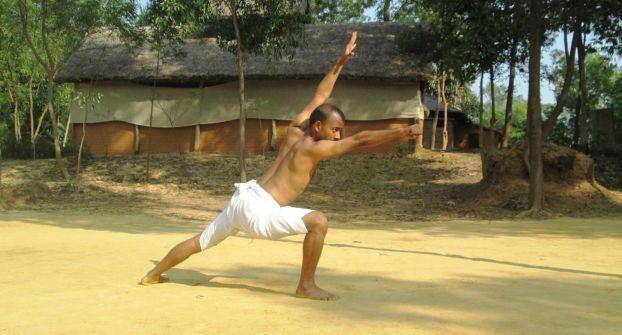 Kalaripayattu is an ancient South Indian martial arts form.
hockey player, Dhyan Chand Singh. Over the past couple of years, there has been a spotlight on sports in India, thanks to the stunning performances and wins of all our players. The ongoing Asian Games 2018 is a testimony to this fact. A number of campaigns on social media by celebs including Minister of State Youth Affairs & Sports, Rajyavardhan Rathore (#HumFitTohIndiaFit) and players like Virat Kohli have helped the cause of sports too. What's heartening is that, for the first time in so many years, the spotlight is not just on cricket but also on other sports like badminton, hockey, archery, shooting, athletics etc. On this National Sports Day, we bring you a list of traditional Indian sports that are still not that popular but should be. You must start playing these not only because they are exciting and fun but also because of the immense health benefits they offer. If you think you can't play these sports, introduce them to your kids. They're sure to love it.
Malakhamb: Malakhamb refers to a tall wooden pole that's either fixed or hanging on which a player performs acrobatic movements against gravity. There is also rope malakhamb in which the players perform the movements on a rope. This helps one develop reflexes, concentration, endurance, strength and stamina. It also works on improving flexibility, grace, swiftness and rhythm. It is excellent for strengthening shoulder muscles, girdle and forearms and for the flexibility of the wrist joints.
Kho kho: This team sport requires the players to be extremely quick and agile. In kids, it can also help develop motor skills and leadership qualities. Kho kho works on every muscle in the body and also sharpens your mind as you are required to be constantly vigilant.
Kabaddi: Thanks to Pro Kabaddi, this game is fast gaining popularity. When you play kabaddi, you become physically stronger and quicker. What is equally important in Kabbadi is your mental strength and concentration as you try to use your presence of mind and attack or defend yourself from other team players. You also need to practice breathing techniques and learn how to hold your breath while continuously chanting 'Kabaddi.'
Kalaripayattu: This is an ancient South Indian martial art form that uses combat techniques like Kalari (the art of fighting on a battlefield), massage and Ayurveda. According to theatre practitioner and Kalaripayattu artist Arpit Singh, it emphasises the correct breathing techniques for each specific movement and posture. Once the basic forms and breathing techniques are learned, the student begins to learn to fight with sticks, knives, swords, shields, fire, blocks of jumps and kicks for defence and attack. Arpit says that Kalaripayattu helps in improving strength, stamina, power, flexibility, mind-body coordination and core strength and also grace, calmness and peace of mind.
Vallamkali: This snake boat race requires the participation of rowers who compete with other snake boats to become the fastest to reach the finish line. It's held in Kerala every year during Onam. Vallamkali exercises your whole body, improves cardiovascular health and strengthens your joints. Rowing can also help you lose weight, tone your muscles and strengthen your back and shoulder.
Kushti: Wrestling is a total body workout which ups your core strength and functional strength and cardiovascular endurance. It also helps in building self-confidence and self-discipline.
Image source: Shutterstock
Disclaimer: TheHealthSite.com does not guarantee any specific results as a result of the procedures mentioned here and the results may vary from person to person. The topics in these pages including text, graphics, videos and other material contained on this website are for informational purposes only and not to be substituted for professional medical advice.
Study finds a new way to attack herpes viruses
Enter your Name
Enter your Email Address
Related