Updated: December 8, 2023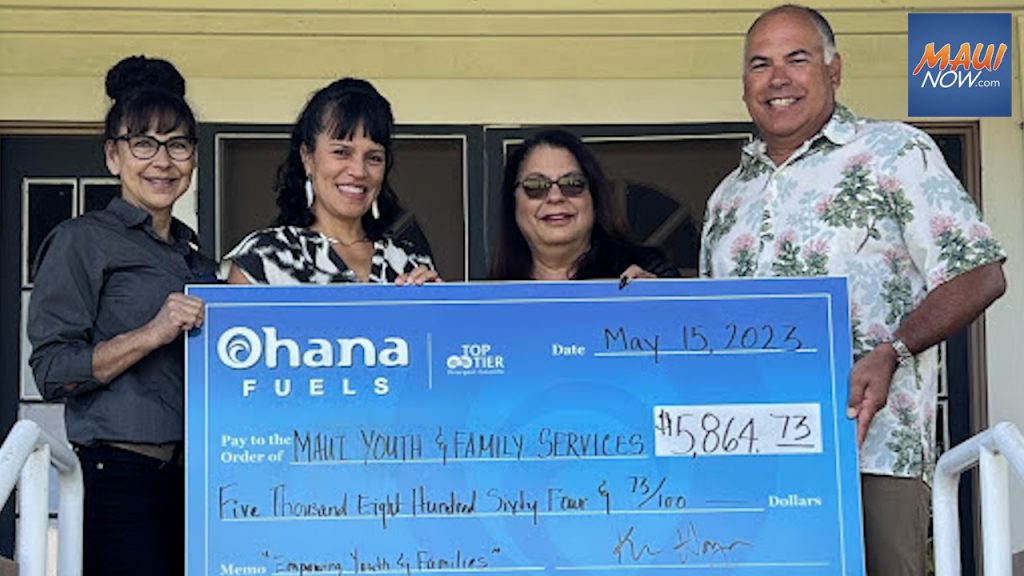 Maui Youth & Family Services received a donation of $5,064 from the ʻOhana Fuels "Fuel up. Do good." program. The funds were generated as a portion of every ʻOhana Fuels' TOP TIER

, fuel-efficient gasoline brand purchase at all eight Maui Minit Stop locations during the first quarter of 2023. In addition, the group raised $800 in a car wash fundraiser.
These funds benefit Maui Youth & Family Services programs, including mental health and substance abuse treatment, emergency shelter and therapeutic foster homes, outreach and advocacy, independent living and substance use prevention programs.
The programs support the agency's mission: to empower youth and families challenged with behavioral health issues to become responsible, self-fulfilled and contributing members of the community.
"We are grateful to the ʻOhana Fuels team for providing these funds; it's been challenging times for our youth, and we know that our programs are needed now more than ever," says Jud Cunningham, CEO of Maui Youth & Family Services. "We're encouraged that local companies like ʻOhana Fuels are able to help us address these needs."
ʻOhana Fuels began the "Fuel up. Do good." program as part of its commitment to supporting organizations and missions important to its customers. Each year, four different nonprofits or community groups on Maui and four on the Big Island are selected as beneficiary organizations.
For more information about the ʻOhana Fuels brand and the "Fuel up. Do good." program, visit ohanafuels.com.
Original source: https://mauinow.com/2023/06/01/maui-youth-family-services-receives-5864-from-%ca%bbohana-fuels-program/
Enter your Name
Enter your Email Address