Updated: November 30, 2023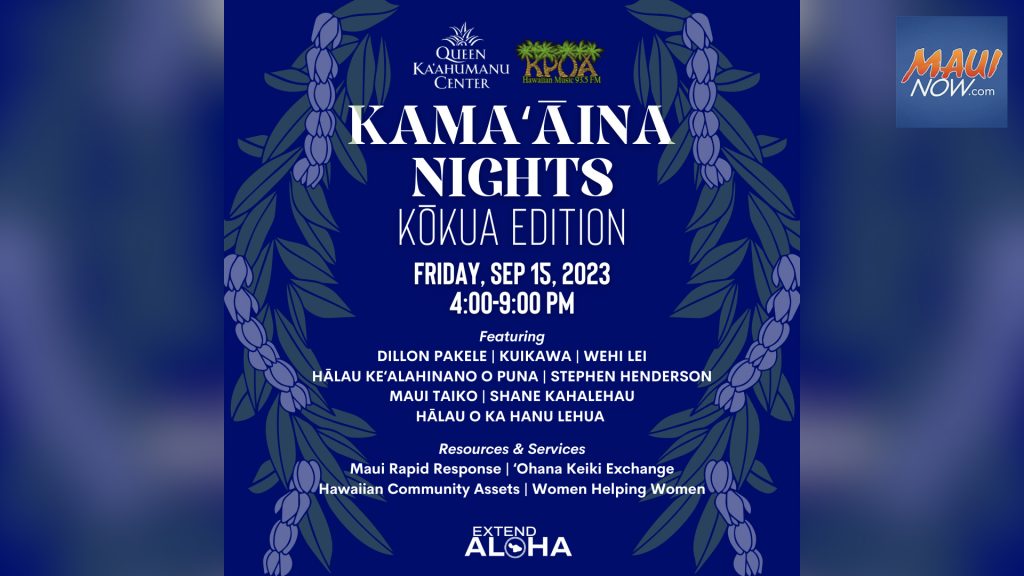 To assist in the ongoing efforts to help Maui, Queen Kaʻahumanu Center is turning their monthly Kamaʻāina Nights concert series into a special kōkua edition benefit concert on Friday, Sept. 15 from 4 to 9 p.m. 
"It's been a month since the wildfires devastated Lāhainā, and we're still feeling the effects in communities across our island," said general manager Kauwela Bisquera. "However, seeing the way that Hawaiʻi comes together in times of need is truly inspirational. We wanted to find a way to bring everyone together and honor those who have lost homes and lives and also mahalo those who have stepped up to kōkua."
The Kama'āina Nights Kōkua Edition concert will begin with a pule by Kahu Kanani Franco to honor the lives lost and to bless the families that have been affected by the fires in any capacity, followed by performances from Wehi Lei, Dillon Pakele, Kūikawā, Hālau Keʻala Kahinano O Puna, Stephen Henderson, Maui Taiko, Hālau O Ka Hanu Lehua, and Shane Kahalehau who will close the evening with a rendition of "All Hawai'i Stand Together."
Along with live music, there will be opportunities for attendees to make and give a lei, donate to the local families in need, and explore the community resource tables offering free services and supplies like Maui Rapid Response,  'Ohana Keiki Exchange, Women Helping Women, and Hawaiian Community Assets. Survivors of the fires will also be invited to enjoy special gifts and discounts from QKC tenants such as American Eagle, Heart + Sol, Madison Ave, Lash Sav, Victoria's Secret, and Zumiez.
A livestream of the event will be carried at the QKC Facebook page. And if you want to donate, visit QKC's Maui Fire Relief Fund here. So far, Queen Ka'ahumanu Center in partnership with Pacific Retail Capital Partners, Maui Mutual Aid, and DTL Foundation have raised close to $20,000 in a few weeks.
Original source: https://mauinow.com/2023/09/15/kokua-our-maui-%ca%bbohana-with-queen-ka%ca%bbahumanu-center-sept-15/
Enter your Name
Enter your Email Address