Updated: November 29, 2023
Residents who paid a little extra for the Hawaiʻi Volcanoes National Park license plate at the Hawaiʻi Department of Motor Vehicles have helped support nēnē, Hawaiian endemic geese.
The park's Resources Management Division received a $60,000 donation, delivered by Hawaiʻi Pacific Parks Association Executive Director Mel Boehl.
The Nēnē Monitoring Program at the park will evaluate monitoring strategy and complete a monitoring protocol report. According to a news release, an estimated 25,000 nēnē existed in Hawaiʻi when Captain Cook arrived in 1778. By the mid 1940s, only 50 birds remained.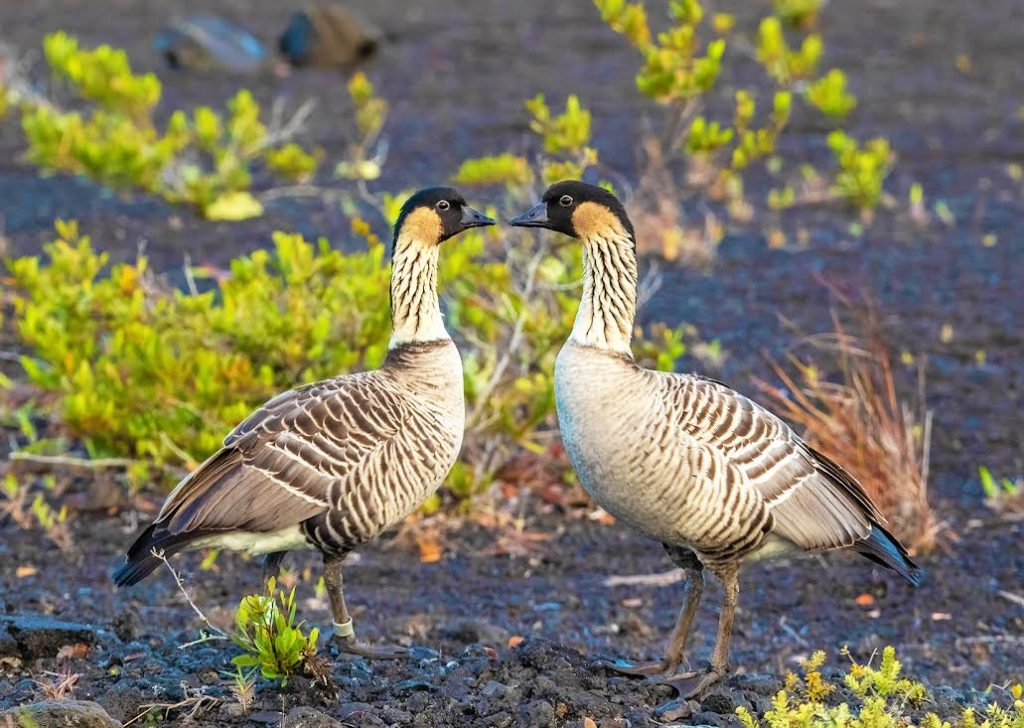 In the 1970s, Hawaiʻi Volcanoes National Park began a captive nēnē breeding and reintroduction program. National park staff use a variety of techniques to improve nēnē breeding success, including, controlling predators in nesting habitat, mowing pastures, closing sensitive brooding areas to the public, and maintaining predator-resistant enclosures in which free-flying birds can rest, feed, or nest.
The plates program is administered by the Hawaiʻi Department of Motor Vehicles. The specialty license plates in Hawaiʻi were authorized by a 2015 state law to raise funds for resource protection and education projects at Hawai'i Volcanoes and Haleakalā national parks.
The plates feature volcanic views of Kīlauea erupting, and rare native species like the nēnē and the Haleakalā silversword plant. The specialty license plate program has raised over $600,000 and counting.
Other national parks that currently benefit from specialty license plate programs include Great Smoky Mountains National Park, Rocky Mountain National Park, Yellowstone National Park, Crater Lake National Park and Yosemite National Park.
Click here to learn more about Hawaiʻi specialty license plates.
Original source: https://mauinow.com/2023/06/10/hawai%ca%bbi-motorists-support-hawaiian-geese-at-national-parks/
Enter your Name
Enter your Email Address