Written by Sakshi Dayal | Gurgaon |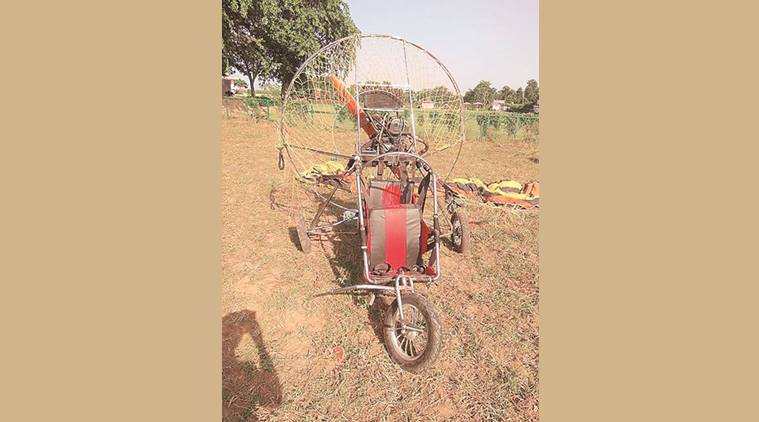 Police said the motor fell off while in the air.
Two days after a Gurgaon resident was injured while paragliding at a hotel near Manesar, police have registered a case against the adventure sports company that had organised the activity. Police said the incident took place Monday afternoon at the Best Western Country Club where Mamba Aviation had been organising adventure sports activities since last month.
The FIR registered at Manesar police station stated that the company had signed a contract with the hotel on September 11, and was meant to organise adventure sports, but paragliding was not among the activities that the hotel had approved of. "A guest residing at the hotel went paragliding around 1 pm, but the motor fell from a height of 10 metres during the activity and she injured herself. She was rushed to Rockland Hospital in Manesar, where she was treated and then discharged," said Subhash Boken, PRO, Gurgaon police, adding that the woman did not file the FIR, and had instead, reached a settlement with the company.
It was staff at the hospital who alerted police about the incident, following which a preliminary probe was conducted, revealing paragliding had been organised without requisite permissions. "The company violated its contract with Best Western Country Club and, without any permission or license, organised paragliding," stated the FIR, registered under IPC sections 287 (negligent conduct with respect to machinery), 337 (causing hurt by act endangering life or personal safety of others), and 34 (common intention).
Two people have been named in the FIR — Amit Yadav, who police say claims to be the CEO of Mamba Aviation, and Kuldeep Singh, the operator at the spot when the incident took place. The official contact of the company, however, led to one Pamit Yadav, who claimed to be a relative of Amit Yadav, and the CEO of the company.
He claimed that while his company had signed a contract with the hotel last year, it did not do so this year. "My company is based on such sports, so we work after taking care of safety and legalities. I have been in Jaisalmer for the last 15 days and have not signed any contract with the hotel this year. It is possible someone is misusing my company's name and maybe even Amit's, and doing this," he claimed. When contacted on the number provided for Amit Yadav, the person claimed he was a real estate agent and said he "did not own any company".
Must Watch
For all the latest Delhi News, download Indian Express App