The Dr. Bobby and Julie Baker Foundation has provided free laptop computers to seven accomplished Maui County high school students. Most of the students were directly or indirectly impacted by the Maui wildfires on Aug. 8.
Computer awardees include:
Greenlee Evonuk of King Kekaulike High School
Kona Higbee of King Kekaulike High School
Elena Javier of King Kekaulike High School
Kawailani Kaonohi Ah Loo of Kūlanihākoʻi High School
Hunter Meyer-Horsman of King Kekaulike High School
Nohealani Pulawa of Baldwin High School
Cecelia Steiner of Kūlanihākoʻi High School
Cecelia Steiner, a senior formerly at Lahainaluna High School, lost her family home and a vehicle to the Lahaina wildfire.
"We lost everything and are using our money for necessities," she said. "My family does not have spare money to buy me a laptop for school. My whole town got burnt down, along with thousands of other families."
She and her Lahainaluna classmates have relocated, at least temporarily, to the new Kūlanihākoʻi High School in Kīhei.
Steiner expressed gratitude for the outpouring of community support, including the Baker Foundation. "It means so much," she said. "There are so many people helping. It's amazing to see the support."
She said she will use the computer for schoolwork at home and to apply for college scholarships. She plans to study psychology at a West Coast school, but she's undecided on her career path.
The wildfire experience showed Steiner "what's really important," and she now feels so "grateful for everything you have."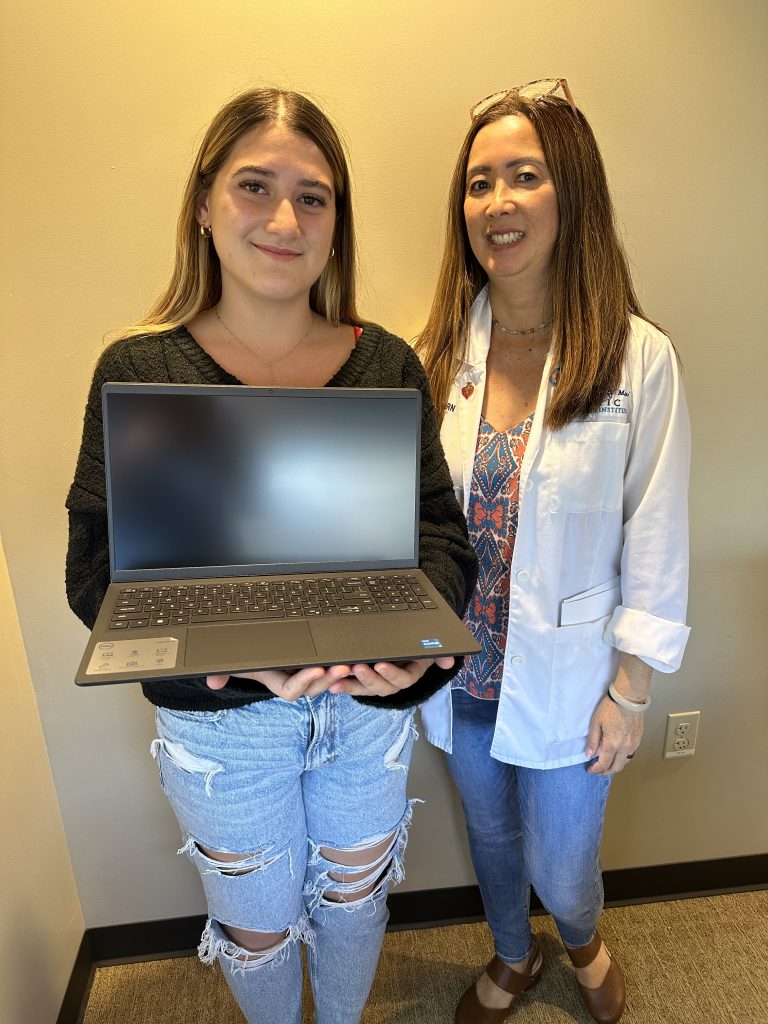 Other students impacted by the wildfires included Kawailani Kaonohi Ah Loo, a former boarder at Lahainaluna High School.
"I felt displaced because I had to leave a second home of mine that I've been in for the last three years," she said, adding that she is now with her Lahainaluna family at Kūlanihākoʻi, after briefly attending classes at Baldwin High School. At Kūlanihākoʻi, there "has been such a warm welcoming for all of us."
Nohealani Pulawa, also a former boarder at Lahainaluna High School and now attending Baldwin High School, lost many of her personal belongings in the fire. "After the Lahaina fire, seeing my whole town being burnt to flames and having to evacuate through the smoke with my boarding family, I realize I lost a lot," she said. "With all this unexpected tragedies coming my way, and to many of all Maui citizens, it's just inspiring to see the community working together and getting through it."
Hunter Meyer-Horsman was raised in Lahaina town and went to King Kamehameha III Elementary School, now destroyed by fire. His family moved Upcountry during the COVID-19 pandemic. According to his mom, Donna Meyer, "Hunter assisted with relief efforts immediately after the devastation and continues to seek ways to support the efforts in our beloved Lahaina."
Kona Higbee donated clothes to the Lahaina fire victims.
Baker said he was amazed at how many of the students who received the donated computers were also impacted by the wildfires. "It makes me feel so good to contribute to their lives," he said. "This warms my heart beyond description."
The computers were presented Friday as part of the Baker Foundation's Computers With A Cause program at the Pacific Cancer Institute. Dr. Bobby Baker founded the institute in 1993 in Wailuku. Applicants for free laptops demonstrated their dedication to academics, community service and financial need.
In July, the Baker Foundation delivered two laptop computers to children in Ka Hale A Ke Ola Homeless Resource Centers' Children Services Program.
The mission of the Dr. Bobby and Julie Baker Foundation is to provide essential resources for the well-being of vulnerable individuals, animals and community-based organizations.
Since 2017, the Computers With A Cause initiative has provided over a 100 computers, valued at $50,000 to several students, community centers, and schools on Maui and in South Carolina. Many of the computers are used by multiple students and their families. 
Baker said, "It is hard to say how many students and their family members have been affected by one of our computers, but it is safe to say hundreds."
Original source: https://mauinow.com/2023/09/25/baker-foundation-donates-laptop-computers-to-seven-maui-county-high-school-students/
Enter your Name
Enter your Email Address